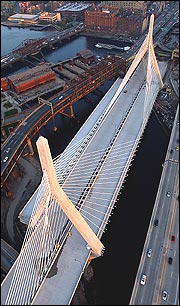 Big Dig plans March 30 openings
.
Boston Globe Staff Photo by David L. Ryan
Ravi Jain, the Jamaica Plain resident who has succeeded in becoming the first civilian to drive in the Big Dig's new turnpike connector tunnels from Logan Airport, as well as the Leverett Circle Connector bridge, said he considers the next milestone to be the most important. He has been working on plans to be the first across the Zakim Bridge.

''It's like being the first to go to Fenway Park. You know it's going to be a symbol of Boston for decades,'' said Jain. ''We've all been living with this for more than a decade now, and the bridge is gorgeous. I can't wait.''
Watch for my friend
Ravi
to be the first one across the bridge!