Most-recorded shows on TiVo® DVRs
| | | | |
| --- | --- | --- | --- |
| Rank | Name | Previous Rank | Change |
I'm recording eight of these (*).
Two are Carol's favorites, Grey's Anatomy and Brothers & Sisters.
Guilty Pleasures
Two are guilty pleasures, American Idol and Glee.
The funniest show on TV
One is the funniest show on TV, Modern Family.
Crime Shows
Two are good crime shows, The Mentalist and Hawaii Five-0.
To Be Watched
I know The Good Wife is good, but I only watched the premiere and have (32) in my Now Playing list.
Also in the same boat is Boardwalk Empire, I've got (12) if those to watch.
My Favorites
Two of my favorites that didn't make the list: V and Leverage.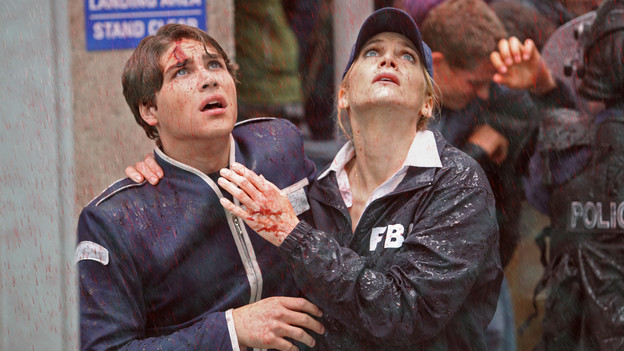 Photo: V - Red Rain Courtesy of ABC
New Shows
New shows that I've jut added season passes to are The Cape, Bob's Burgers and Worst Cooks in America.
I started watching the free preview of The Cape on my iPad, but the next time I went back to watch, it was unavailable, too many were watching. I've watched the beginning of Bob's Burgers. Very funny, plus it features my friend Eugene Mirman in it.
Here's more on Eugene:
One thing I like about Worst Cooks in America, is that in the beginning of the show, you get basic cooking lessons. This are good.
Movies
I've also got movies too, and am loving Religulous.
What are you recording?